Emphasis
Augmented Reality and Virtual Reality
Human-machine and human-data interaction
Basics of perception and cognition
Interactive visualization of data
Projects
Research topics
Our research in the area of Virtual Reality and Augmented Reality (VR/AR) focuses on:
Immersive analytics
Novel interaction methods for VR/AR.
In terms of immersive analytics, we focus on the question as to when VR/AR is really needed for analyzing and visualizing data.
For interaction, we specifically explore novel ways of how VR/AR might offer more natural ways to interact with data.
Contact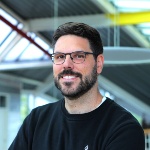 Michael Sedlmair
Prof. Dr.
Professur Augmented Reality und Virtual Reality