Visualisation Laboratory and High-Resolution Powerwall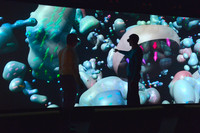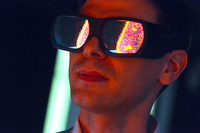 Photos: SimTech, David Ausserhofer.
A core part of the VISUS building is the 44 megapixel rear-projection system in a dedicated visualisation laboratory. On a screen of 6 metres in width and 2.25 metres in height high resolution imagery can be viewed in 2D or stereoscopically in 3D. The installation is unique in Europe with its pixel size of only 0.56 mm.
Until now similar powerwalls are often built using a huge number of standard projectors and are able to display between two and ten million pixels. Therefore a single pixel is usually significantly larger than on a conventional desktop monitor. This low resolution restricts the field of application. Especially interactive applications require a high resolution, for example for several viewers standing close to the wall and analysing complex, detailed information or even texts.
The scientists at VISUS are working with 4K projectors that are usually used in cinemas. Ten of these projectors are installed upright in pairs side by side forming five projection columns. The powerwall is used to visualise complex data from different areas of science and engineering.
Learn more about technical details
Assembling and Installation
| | |
| --- | --- |
| | Assembly and installation of the powerwall at VISUS was a difficult process. In December 2010 the visualisation laboratory was eventually inaugurated. |