Volume visualisation
Volume visualisation deals with creating a visual representation of scalar data in three-dimensional space. Typical examples come from medical imaging techniques like computed tomography (CT) or magnetic resonance imaging (MRI). Other application areas for volume visualisation are the exploration of complex simulation data in areas like fluid dynamics, geology or seismology. In order to obtain the visualisation, the underlying data are samples, shaded using a physical lighting model and projected onto the image plane. The user usually can interactively adjust colour and opacity values for the data using a transfer function to hide or highlight certain regions in the data.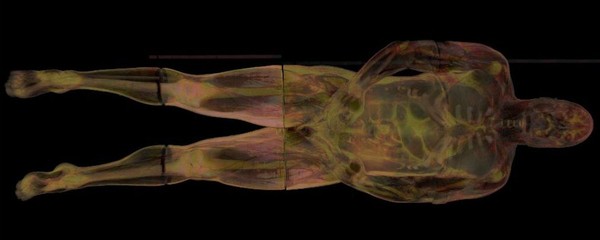 Parallel visualisation of the "Visible Human" data set on 32 cluster nodes (Data source: U.S. National Library of Medicine).
Visualisation techniques
The display of three-dimensional volumetric data requires a projection onto the image plane. Different techniques can be used to achieve different effects highlighting different aspects of the data. Typically, an emission and absorption model is used, which assumes each data point to emit a specific colour while absorbing the light of other data points along the view ray. The "maximum intensity projection" is a technique which yields the data point with the maximum emission along each view ray. An important application area for that is medical imaging. More complex techniques allow for interactively controlling the emission and absorption values by means of so-called transfer functions, which allo classifying certain value ranges with a certain colour. Iso-surfaces are the areas defined by a certain scalar value. They can be used to show areas with different properties in the data. More recent techniques "interval volumes" try to generalise these techniques to form a holitistic model.
| | | |
| --- | --- | --- |
| Visualisation of a CT scan using a maximum intensity projection. | Visualisation using a combination of direct volume rendering and iso-surfaces. | Visualisation using direct interval volume visualisation. |
Parallelisation techniques
Modern imaging technology and simulations yield larger and larger data set, which in turn pose a challenge to visualisation methods. In order to handle such large data, parallel algorithms leveraging the computational power of GPU clusters have become an important tool. When parallelising volume visualisation, the computation is split into mostly independent parts which can be assigned to different GPUs on different computers. Such subdivisions can occur in image space, i.e. different parts of the image are computed on different machines, or in object space, i.e. the data set is split into smaller bricks which are processed on different machines. While the first technique achieves good scalability with the size of the output image, it does not allow processing larger data sets. This can be done with object-space subdivision, which, however, requires a final compositing step that combines the images of the partial data sets into the final picture.
Publications
2014

Ament, Marco

;

Sadlo, Filip

;

Dachsbacher, Carsten

;

Weiskopf, Daniel

: Low-Pass Filtered Volumetric Shadows. In:

IEEE Transactions on Visualization and Computer Graphics

,

IEEE Transactions on Visualization and Computer Graphics

. (2014b)

Ament, Marco

;

Bergmann, Christoph

;

Weiskopf, Daniel

: Refractive Radiative Transfer Equation. In:

ACM Transactions on Graphics

,

ACM Transactions on Graphics

. Bd. 33 (2014a), Nr. 2

Bolemann, Thomas

;

Üffinger, Markus

;

Sadlo, Filip

;

Ertl, Thomas

;

Munz, Claus-Dieter

: Direct Visualization of Piecewise Polynomial Data. In:  : Springer, 2014. — Nicht rezensiert

Ertl, Thomas

;

Krone, Michael

;

Kesselheim, Stefan

;

Scharnowski, Katrin

;

Reina, Guido

;

Holm, Christian

: Visual Analysis for Space-Time Aggregation of Biomolecular Simulations. In:

for Chemistry, R. S.

(Hrsg.)

Faraday Discussions

,

Faraday Discussions

. Bd. 169 (2014)

Heinrich, Julian

;

Krone, Michael

;

Weiskopf, Daniel

;

O'Donoghue, Seán

: Visualising Intrinsic Disorder and Conformational Variation in Protein Ensembles. In:

for Chemistry, R. S.

(Hrsg.)

Faraday Discussions

,

Faraday Discussions

. Bd. 169 (2014)

Krone, Michael

;

Huber, Markus

;

Scharnowski, Katrin

;

Hirschler, Manuel

;

Kauker, Daniel

;

Reina, Guido

;

Nieken, Ulrich

;

Weiskopf, Daniel

; u. a.

: Evaluation of Visualizations for Interface Analysis of SPH. In:

EuroVis 2014 Short Papers

,

EuroVis 2014 Short Papers

. Bd. 3, 2014

2013

Ament, Marco

;

Sadlo, Filip

;

Weiskopf, Daniel

: Ambient Volume Scattering. In:

IEEE Transactions on Visualization and Computer Graphics

,

IEEE Transactions on Visualization and Computer Graphics

. Bd. 19 (2013a), Nr. 12

Ament, Marco

;

Sadlo, Filip

;

Weiskopf, Daniel

: Volumenvisualisierung einer Supernova. In:

Informatik Spektrum

,

Informatik Spektrum

. Bd. 36 : Springer, 2013b. — Nicht rezensiert

2012

Ament, Marco

;

Frey, Steffen

;

Müller, Christoph

;

Grottel, Sebastian

;

Ertl, Thomas

;

Weiskopf, Daniel

: GPU-Accelerated Visualization. In:

Bethel, E. W.

;

Childs, H.

;

Hansen, C.

;

Bethel, E. W.

;

Childs, H.

;

Hansen, C.

(Hrsg.) ;

Bethel, E. W.

;

Childs, H.

;

Hansen, C.

(Hrsg.):

High Performance Visualization: Enabling Extreme-Scale Scientific Insight

,

High Performance Visualization: Enabling Extreme-Scale Scientific Insight

 : Chapman and Hall/CRC, 2012

Krone, Michael

;

Stone, John E.

;

Ertl, Thomas

;

Schulten, Klaus

: Fast Visualization of Gaussian Density Surfaces for Molecular Dynamics and Particle System Trajectories. In:

EuroVis 2012 Short Papers

,

EuroVis 2012 Short Papers

. Bd. 1, 2012

Wenger, Stephan

;

Ament, Marco

;

Steffen, Wolfgang

;

Koning, Nico

;

Weiskopf, Daniel

;

Magnor, Marcus

: Interactive Visualization and Simulation of Astronomical Nebulae. In:

IEEE Computing in Science and Engineering

,

IEEE Computing in Science and Engineering

. Bd. 14 (2012b), Nr. 3

Wenger, Stephan

;

Ament, Marco

;

Guthe, Stefan

;

Lorenz, Dirk

;

Tillmann, Andreas

;

Weiskopf, Daniel

;

Magnor, Marcus

: Visualization of Astronomical Nebulae via Distributed Multi-GPU Compressed Sensing Tomography. In:

IEEE Transactions on Visualization and Computer Graphics

,

IEEE Transactions on Visualization and Computer Graphics

. Bd. 18 (2012a), Nr. 12

2011

Moloney, Brendan

;

Ament, Marco

;

Weiskopf, Daniel

;

Möller, Torsten

: Sort First Parallel Volume Rendering. In:

IEEE Transactions on Visualization and Computer Graphics

,

IEEE Transactions on Visualization and Computer Graphics

. Bd. 17 (2011), Nr. 8

2010

Ament, Marco

;

Weiskopf, Daniel

;

Carr, Hamish

: Direct Interval Volume Visualization. In:

IEEE Transactions on Visualization and Computer Graphics

,

IEEE Transactions on Visualization and Computer Graphics

. Bd. 16 (2010), Nr. 6

Falk, Martin

;

Grottel, Sebastian

;

Ertl, Thomas

: Interactive Image-Space Volume Visualization for Dynamic Particle Simulations. In:

Proceedings of The Annual SIGRAD Conference

,

Proceedings of The Annual SIGRAD Conference

 : Linköping University Electronic Press, 2010

Frey, Steffen

;

Ertl, Thomas

: PaTraCo: A Framework Enabling the Transparent and Efficient Programming of Heterogeneous Compute Networks. In:

Eurographics Symposium on Parallel Graphics and Visualization (EGPGV10)

,

Eurographics Symposium on Parallel Graphics and Visualization (EGPGV10)

, 2010

Üffinger, Markus

;

Frey, Steffen

;

Ertl, Thomas

: Interactive High-Quality Visualization of Higher-Order Finite Elements. In:

Computer Graphics Forum (CGF)  Volume 29(2) (Euro Graphics 2010)  Pages 115-136

,

Computer Graphics Forum (CGF)  Volume 29(2) (Euro Graphics 2010)  Pages 115-136

. Bd. 29 (2010)

2009

Frey, Steffen

;

Ertl, Thomas

: Accelerating Raycasting Utilizing Volume Segmentation of Industrial CT Data. In:

EG UK Theory and Practice of Computer Graphics

,

EG UK Theory and Practice of Computer Graphics

. (2009)

Frey, Steffen

;

Müller, Christoph

;

Strengert, Magnus

;

Ertl, Thomas

: Concurrent CT Reconstruction and Visual Analysis Using Hybrid Multi-resolution Raycasting in a Cluster Environment. In:

ISVC '09: Proceedings of the 5th International Symposium on Advances in Visual Computing

,

ISVC '09: Proceedings of the 5th International Symposium on Advances in Visual Computing

 : Springer-Verlag, 2009

2008

Moser, Manuel

;

Weiskopf, Daniel

: Interactive Volume Rendering on Mobile Devices. In:

Workshop on Vision  Modelling  and Visualization VMV '08

,

Workshop on Vision  Modelling  and Visualization VMV '08

, 2008

Rößler, Friedemann

;

Wolff, Torsten

;

Ertl, Thomas

: Direct GPU-based Volume Deformation. In:

Proceedings of CURAC 2008

,

Proceedings of CURAC 2008

, 2008

2007

Moloney, Brendan

;

Weiskopf, Daniel

;

Möller, Torsten

;

Strengert, Magnus

: Scalable Sort-First Parallel Direct Volume Rendering with Dynamic Load Balancing. In:

Eurographics Symposium on Parallel Graphics and Visualization (EGPGV07)

,

Eurographics Symposium on Parallel Graphics and Visualization (EGPGV07)

 : Eurographics Association, 2007

Müller, Christoph

;

Strengert, Magnus

;

Ertl, Thomas

: Adaptive Load Balancing for Raycasting of Non-Uniformly Bricked Volumes. In:

Journal of Parallel Computing

,

Journal of Parallel Computing

. Bd. 3, Elsevier (2007), Nr. 6

Schafhitzel, Tobias

;

Rößler, Friedemann

;

Weiskopf, Daniel

;

Ertl, Thomas

: Simultaneous Visualization of Anatomical and Functional 3D Data by Combining Volume Rendering and Flow Visualization. In:

Proceedings of SPIE Medical Imaging 2007: Visualization and Image-Guided Procedures

,

Proceedings of SPIE Medical Imaging 2007: Visualization and Image-Guided Procedures

, 2007

Tejada, Eduardo

;

Schafhitzel, Tobias

;

Ertl, Thomas

: Hardware-accelerated point-based rendering of surfaces and volumes. In:

Proceedings of WSCG 2007 Full Papers

,

Proceedings of WSCG 2007 Full Papers

, 2007

2006

Botchen, Ralf P.

;

Chen, Min

;

Weiskopf, Daniel

;

Ertl, Thomas

: GPU-assisted Multi-field Video Volume Visualization. In:

Proceedings of the International Workshop on Volume Graphics '06

,

Proceedings of the International Workshop on Volume Graphics '06

, 2006

Cuadros-Vargas, Alex J.

;

Nonato, Luis Gustavo

;

Tejada, Eduardo

;

Ertl, Thomas

: Generating Segmented Tetrahedral Meshes from Regular Volume Data for Simulation and Visualization Applications. In:

Proceedings of CompIMAGE

,

Proceedings of CompIMAGE

, 2006

Iserhardt-Bauer, Sabine

;

Hastreiter, Peter

;

Tomandl, Bernd F.

;

Ertl, Thomas

: Evaluation of Volume Growing Based Segmentation of Intracranial Aneurysms Combined with 2D Transfer Functions. In:

Proceedings of SimVis 2006

,

Proceedings of SimVis 2006

, 2006

Müller, Christoph

;

Strengert, Magnus

;

Ertl, Thomas

: Optimized Volume Raycasting for Graphics-Hardware-based Cluster Systems. In:

Eurographics Symposium on Parallel Graphics and Visualization (EGPGV'06)

,

Eurographics Symposium on Parallel Graphics and Visualization (EGPGV'06)

, 2006

Rößler, Friedemann

;

Tejada, Eduardo

;

Fangmeier, Thomas

;

Ertl, Thomas

;

Knauff, Markus

: GPU-based Multi-Volume Rendering for the Visualization of Functional Brain Images. In:

Proceedings of SimVis 2006

,

Proceedings of SimVis 2006

, 2006

Strengert, Magnus

;

Klein, Thomas

;

Botchen, Ralf P.

;

Stegmaier, Simon

;

Chen, Min

;

Ertl, Thomas

: Spectral Volume Rendering using GPU-based Raycasting. In:

The Visual Computer

,

The Visual Computer

. Bd. 22 (2006), Nr. 8

Svakhine, Nikolai A.

;

Ebert, David S.

;

Tejada, Eduardo

;

Ertl, Thomas

;

Gaither, Kelly P.

: Pre-integrated Flow Illustration for Tetrahedral Meshes. In:

Proceedings of the International Workshop on Volume Graphics '06

,

Proceedings of the International Workshop on Volume Graphics '06

, 2006

2005

Klein, Thomas

;

Strengert, Magnus

;

Stegmaier, Simon

;

Ertl, Thomas

: Exploiting Frame-to-Frame Coherence for Accelerating High-Quality Volume Raycasting on Graphics Hardware. In:

Silva, C.

;

Gröller, E.

;

Rushmeier, H.

;

Silva, C.

;

Gröller, E.

;

Rushmeier, H.

(Hrsg.) ;

Silva, C.

;

Gröller, E.

;

Rushmeier, H.

(Hrsg.):

Proceedings of IEEE Visualization '05

,

Proceedings of IEEE Visualization '05

, 2005

Stegmaier, Simon

;

Strengert, Magnus

;

Klein, Thomas

;

Ertl, Thomas

: A Simple and Flexible Volume Rendering Framework for Graphics-Hardware-based Raycasting. In:

Proceedings of the International Workshop on Volume Graphics '05

,

Proceedings of the International Workshop on Volume Graphics '05

, 2005

Strengert, Magnus

;

Magallón, Marcello

;

Weiskopf, Daniel

;

Guthe, Stefan

;

Ertl, Thomas

: Large Volume Visualization of Compressed Time-Dependent Datasets on GPU Clusters. In:

Journal of Parallel Computing

,

Journal of Parallel Computing

. Bd. 31, Elsevier (2005), Nr. 2

2004

Reina, Guido

;

Ertl, Thomas

: Volume Visualization and Visual Queries for Large High-Dimensional Datasets. In:

Deussen, O.

;

Hansen, C.

;

Keim, D. A.

;

Saupe, D.

;

Deussen, O.

;

Hansen, C.

;

Keim, D. A.

;

Saupe, D.

(Hrsg.) ;

Deussen, O.

;

Hansen, C.

;

Keim, D. A.

;

Saupe, D.

(Hrsg.):

Proceedings of EG/IEEE TCVG Symposium on Visualization VisSym '04

,

Proceedings of EG/IEEE TCVG Symposium on Visualization VisSym '04

, 2004

Strengert, Magnus

;

Magallón, Marcello

;

Weiskopf, Daniel

;

Guthe, Stefan

;

Ertl, Thomas

: Hierarchical Visualization and Compression of Large Volume Datasets Using GPU Clusters. In:

Eurographics Symposium on Parallel Graphics and Visualization (EGPGV'04)

,

Eurographics Symposium on Parallel Graphics and Visualization (EGPGV'04)

, 2004

Weiler, Manfred

;

Klein, Thomas

;

Ertl, Thomas

: Direct volume rendering in OpenSG. In:

Computers and Graphics

,

Computers and Graphics

. Bd. 28 (2004), Nr. 1

2003

Klein, Thomas

;

Weiler, Manfred

;

Ertl, Thomas

: A Volume Rendering Extension for the OpenSG Scene Graph API. In:

Poster Compendium of IEEE Visualization '03

,

Poster Compendium of IEEE Visualization '03

, 2003

Röttger, Stefan

;

Ertl, Thomas

: Cell Projection of Convex Polyhedra. In:

Proc. Volume Graphics '03

,

Proc. Volume Graphics '03

, 2003a

Röttger, Stefan

;

Ertl, Thomas

: Fast Volumetric Display of Natural Gaseous Phenomena. In:

Proc. CGI '03

,

Proc. CGI '03

, 2003b

Röttger, Stefan

;

Guthe, Stefan

;

Weiskopf, Daniel

;

Ertl, Thomas

;

Straßer, Wolfgang

: Smart Hardware-Accelerated Volume Rendering. In:

Proceedings of EG/IEEE TCVG Symposium on Visualization VisSym '03

,

Proceedings of EG/IEEE TCVG Symposium on Visualization VisSym '03

, 2003

Schulze, J. P.

;

Kraus, Martin

;

Lang, U.

;

Ertl, Thomas

: Integrating Pre-Integration into the Shear-Warp Algorithm. In:

Proceedings of Third International Workshop on Volume Graphics

,

Proceedings of Third International Workshop on Volume Graphics

, 2003

Weiler, Manfred

;

Kraus, Martin

;

Merz, Markus

;

Ertl, Thomas

: Hardware-Based Ray Casting for Tetrahedral Meshes. In:

Proceedings of IEEE Visualization '03

,

Proceedings of IEEE Visualization '03

, 2003a

Weiler, Manfred

;

Kraus, Martin

;

Merz, Markus

;

Ertl, Thomas

: Hardware-Based View-Independent Cell Projection. In:

IEEE Transactions on Visualization and Computer Graphics

,

IEEE Transactions on Visualization and Computer Graphics

. (2003b)

2002

Guthe, Stefan

;

Röttger, Stefan

;

Schieber, Andreas

;

Straßer, Wolfgang

;

Ertl, Thomas

: High-Quality Unstructured Volume Rendering on the PC Platform. In:

Proc. EG/SIGGRAPH Graphics Hardware Workshop '02

,

Proc. EG/SIGGRAPH Graphics Hardware Workshop '02

, 2002

Kraus, Martin

: Truly Volumetric Effects. In:

Engel

;

W.

;

Engel

;

W.

(Hrsg.) ;

Engel

;

W.

(Hrsg.):

Direct3D ShaderX

,

Direct3D ShaderX

 : Wordware, 2002

Röttger, Stefan

;

Ertl, Thomas

: A Two-Step Approach for Interactive Pre-Integrated Volume Rendering of Unstructured Grids. In:

Proc. IEEE VolVis '02

,

Proc. IEEE VolVis '02

, 2002

Röttger, Stefan

;

Irionar, A.

;

Ertl, Thomas

: Shadow Volumes Revisited. In:

Proc. WSCG '02

,

Proc. WSCG '02

, 2002

Weiler, Manfred

;

Ertl, Thomas

: Ein Volume-Rendering-Framework für OpenSG. In:

Proceedings of OpenSG Symposium 2002

,

Proceedings of OpenSG Symposium 2002

, 2002

Weiler, Manfred

;

Kraus, Martin

;

Ertl, Thomas

: Hardware-Based View-Independent Cell Projection. In:

Proceedings of IEEE Symposium on Volume Visualization 2002

,

Proceedings of IEEE Symposium on Volume Visualization 2002

, 2002

Weiskopf, Daniel

;

Engel, Klaus

;

Ertl, Thomas

: Volume Clipping via Per-Fragment Operations in Texture-Based Volume Visualization. In:

Proceedings of IEEE Visualization '02

,

Proceedings of IEEE Visualization '02

, 2002

2001

Engel, Klaus

;

Kraus, Martin

;

Ertl, Thomas

: High-Quality Pre-Integrated Volume Rendering Using Hardware-Accelerated Pixel Shading. In:

Eurographics / SIGGRAPH Workshop on Graphics Hardware '01

,

Eurographics / SIGGRAPH Workshop on Graphics Hardware '01

 : Addison-Wesley Publishing Company, Inc., 2001

Magallón, Marcello

;

Hopf, Matthias

;

Ertl, Thomas

: Parallel Volume Rendering using PC Graphics Hardware. In:

Pacific Graphics

,

Pacific Graphics

, 2001

Tomandl, Bernd F.

;

Hastreiter, Peter

;

Rezk-Salama, Christof

;

Engel, Klaus

;

Ertl, Thomas

;

Huk, Walter J.

;

Naraghi, Ramin

;

Ganslandt, Oliver

; u. a.

: Local and Remote Visualization Techniques for Interactive Direct Volume Rendering in Neuroradiology. In:

RadioGraphics

,

RadioGraphics

. (2001)

2000

Engel, Klaus

;

Hastreiter, Peter

;

Tomandl, Bernd F.

;

Eberhardt, K. E. W.

;

Ertl, Thomas

: Combining Local and Remote Visualization Techniques for Interactive Volume Rendering in Medical Applications. In:

Proceedings of IEEE Visualization '00

,

Proceedings of IEEE Visualization '00

, 2000

Rezk-Salama, Christof

;

Engel, Klaus

;

Bauer, M.

;

Greiner, G.

;

Ertl, Thomas

: Interactive Volume Rendering on Standard PC Graphics Hardware Using Multi-Textures and Multi-Stage-Rasterization. In:

Eurographics / SIGGRAPH Workshop on Graphics Hardware '00

,

Eurographics / SIGGRAPH Workshop on Graphics Hardware '00

 : Addison-Wesley Publishing Company, Inc., 2000

Röttger, Stefan

;

Kraus, Martin

;

Ertl, Thomas

: Hardware-Accelerated Volume and Isosurface Rendering Based On Cell-Projection. In:

Proceedings of IEEE Visualization '00

,

Proceedings of IEEE Visualization '00

, 2000

Weiler, Manfred

;

Westermann, R.

;

Hansen, Charles D.

;

Zimmerman, K.

;

Ertl, Thomas

: Level-Of-Detail Volume Rendering via 3D Textures. In:

Volume Visualization and Graphics Sympsium 2000

,

Volume Visualization and Graphics Sympsium 2000

, 2000